Dental crowns have been used for many decades to protect damaged teeth or for cosmetic dental restorations. In the past, at least two appointments were needed to create a dental crown. First, impressions and x-rays need to be taken. Next, the tooth is prepared for the crown and a temporary crown is put in place until the permanent crown can be made and fitted. With general dentistry from Columbia Dental Center, we have simplified that process with our CEREC same day crown technology.
CEREC same day crowns use "computer-aided design and computer-aided manufacturing," or CAD/CAM, technology to by-pass the need to have a laboratory create a new dental crown. This system uses computer imagery to mill a porcelain crown to exact specifications for a perfect fit, right within our office. This allows us to eliminate two visits to our office when our patients need a dental crown. CEREC same-day crowns are made on-site out of beautiful porcelain to match your smile perfectly while saving you time.
One Visit Dental Crowns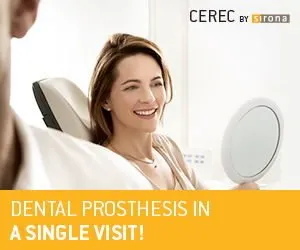 CEREC technology combines computer design and precision milling to create an exact replica of teeth for use as a crown. CEREC same-day crowns are made from one piece of porcelain which is a beautiful option for dental crowns. The white crown is color-matched to your natural teeth to blend perfectly into your smile. In one visit, your damaged tooth can be covered with a beautiful, permanent crown, saving you the time and discomfort of having a temporary crown put on until a lab can make your new tooth.
At Columbia Dental Center, we always want to offer our patients the most convenient and best dental options available. CEREC technology for same-day dental crowns is one of the ways we use the latest dental technology to benefit our patients. If you need a dental crown, save time and come see us for a CEREC one day crown. Contact us today to schedule your appointment.