Benefits of Sedation Dentistry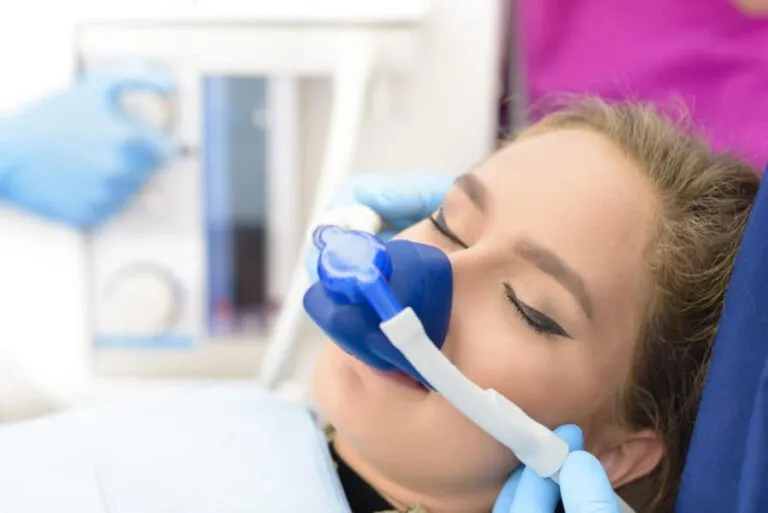 Sedation is most commonly used on patients who have dental anxiety or phobia. However, it may benefit other patients as well. Patients who have trouble sitting still, get uncomfortable when staying in one position for too long, have a strong gag reflex, or have sensitive teeth can all benefit from sedation dentistry. If your anxious about visiting the dentist or interesting in learning more about sedation dentistry, be sure to speak to our team about incorporating sedation dentistry into you visit.
What is sedation dentistry?
Columbia Dental Center utilizes medication to help patients relax during dental visits. It is often times referred to as "sleep dentistry." There are three types of sedation that may be utilized for dental procedures: IV sedation, oral sedation, and nitrous oxide.
Nitrous Oxide
Also known as "laughing gas' is inhaled through a mask placed over your nose. Nitrous oxide creates a feeling of euphoria, and while it is a form of conscious sedation, patients may not remember the procedure afterwards. It wears off quickly and is the only form of sedation where you are able to drive yourself home after treatment.
If you want to learn more about the benefits of mini dental implants over other tooth replacement options, Call at 618-281-6161 Or Schedule An Appointment Online.
Oral Sedation
For oral sedation procedures, patients take medication in pill form, usually about an hour before the procedure. The medicine will make you drowsy and groggy, although you'll still be awake. Sometimes patients will fall asleep but can usually be awakened with a gentle shake. If you receive oral sedation, you will need someone else to drive.
Intravenous Sedation
With intravenous (IV) sedation you will be administered medications that will render you deeply asleep during the dental procedure. Intravenous (IV) sedation is similar to what is utilized in hospitals while performing surgery. While you're under intravenous general anesthesia you cannot be easily awakened until the effects of the medication wear off or are reversed.
At Columbia Dental Center, we've partnered with Premier Dental Anesthesiology to provide our patients with general or deep sedation during dental procedures. Each anesthesiologist we work with is board-certified and has extensive experience working with dental patients.
Choosing a Sedation Dentist
Few dentists provide sedation dentistry because they lack training to administer it effectively and safely. Dr. Leppo has achieved Mastership status with the College of Sedation in Dentistry (MCSD). This advanced skillset recognizes Dr. Leppo's commitment to providing high quality, safe and effective patient care and demonstrates his advanced training in sedation dentistry. Dr. Rick Leppo and his team provide anxiety-free dental care using several sedation techniques obtained through advanced training.
Contact Our Experienced Dental Team
If you're looking for gentle, experienced dental care in a low-stress environment, contact Columbia Dental Center. We provide expert sedation dentistry. To schedule an appointment, contact our Columbia, IL office by calling 618-281-6161.